This page is intended to provide information about West Coast Ultrasound Institute's programs, pursuant to the Code of Federal Regulations. West Coast Ultrasound Institute is institutionally accredited by the Accrediting Commission of Career Schools and Colleges (ACCSC) and Licensed to operate in California by the Bureau for Private Post-Secondary Education (BPPE) www.bppe.ca.gov and Approved to operate by the Arizona State Board for Private Postsecondary Education (AZPPE) https://ppse.az.gov. For those programs that also carry Programmatic Accreditation or Approval, the appropriate agency is listed with that program's information below.
DEFINITIONS
On-time Completion Rate (as defined in 34 CFR 668.6 (c)). This number is based on the students who graduated during the award year, and did so within "normal time." Normal time is based on the published length of the program in the catalog. This rate is not reflective of the overall completion rate of the program.
Tuition and Fees includes the tuition and fees charged for the program during the award year ending on June 30, 2018; the total includes books, supplies and fees. Current tuition and costs can be found in the School Catalog.
Placement Rate is based on the calculation required by West Coast Ultrasound Institute's accrediting body, ACCSC. ACCSC defines placement rates as the number of graduates who complete within 150% of the program length during the reporting period who were available for employment and found a job in their field of training, divided by the total number of graduates available for employment.
SCHOOL DOCUMENTS AND ADDITIONAL INFORMATION
College Navigator
College Navigator is a useful tool maintained by the National Center for Education Statistics (NCES) that provides a wide range of information for more than 7,000 postsecondary education institutions taking the guesswork out of researching schools. Click the link provided to view the results of West Coast Ultrasound Institute's school listing:
https://nces.ed.gov/collegenavigator/?q=west+coast+ultrasound+institute&s=all&id=441222
Voter Registration
WCUI encourages eligible students to register and vote. Students who are residents of California or Arizona may register to vote online. If assistance is needed, students may contact their Campus Director for more information on voter registration.
California: http://www.sos.ca.gov/elections/voter-registration/
Arizona: https://azsos.gov/elections/voting-election/register-vote-or-update-your-current-voter-information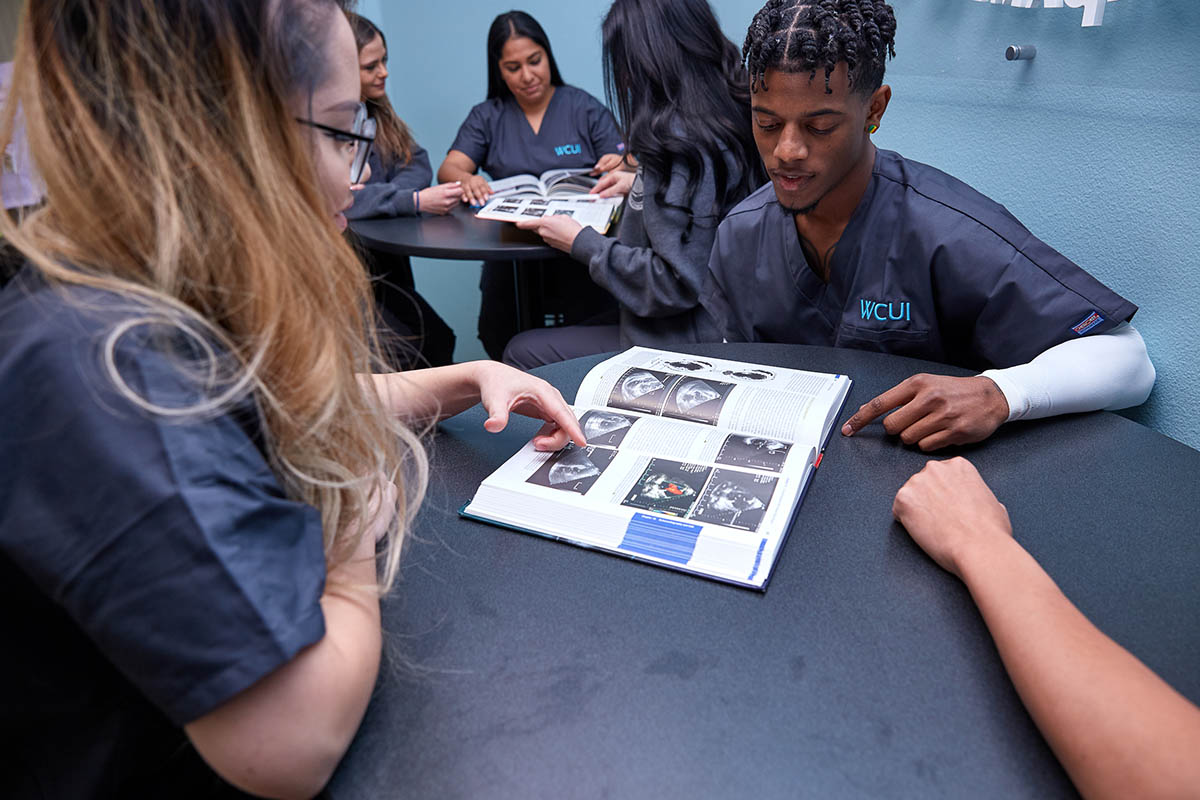 Accreditation and Approval
All information regarding accreditation and approval can be found in the school catalog.
Access to Services, Activities and Facilities by Disabled Individuals
WCUI's policy is to make its programs and services accessible to and usable by disabled persons. Inquiries about the accessibility of particular programs and services should be made to the campus on-site administrator.
Satisfactory Academic and Financial Aid Progress
All information regarding satisfactory academic and financial aid progress can be found in the school catalog.
Transfer of Credit
All information regarding the transfer of credit can be found in the school catalog.