SUMMER 2020: Our Phoenix campus is moving to a new location only 6.7 miles away in the new Park Central Development. The new campus is being built to suit in the heart of the Bioscience HealthCare District in Phoenix. For details, read our blog about the move and our new building here.
Our Phoenix campus is currently located on the northwest corner of 44th Street and Camelback Road with stunning views of Camelback Mountain and Praying Monk. The campus occupies suites on the first and second floors of Building K with access to a beautiful green courtyard, providing a perfect outdoor escape for students and instructors between classes.
We are conveniently located in the heart of the city between the renowned Biltmore and Arcadia areas supported by an ample parking lot with over 1,000 parking spaces. The campus is readily situated within walking distance to chic boutique shopping and some of the best dining in the valley.
Address:
4250 E. Camelback Road, Building K – 190
Phoenix, AZ 85018
Telephone (602) 954-3834
Campus Director: Sophia Perkovich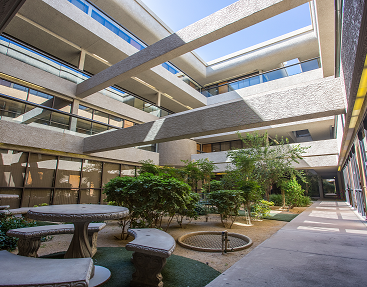 FACILITY:
The school encompasses 17,505 square feet which includes 8 multi-media enabled classrooms, 2 ultrasound labs with a total of 19 ultrasound machines for student use, student and faculty lounges, and a Learning Resource Center. Elevators and stairs are available to access the handicap accessible building.