WCUI School of Medical Imaging and Nursing is thrilled to announce the promotion of Laurie Bentson, MHA, RDMS, RVT, to the newly created position of Clinical Lab Director for the Phoenix, Arizona campus. Many WCUI Phoenix sonography students will recognize Laurie as an instructor for a variety of ultrasound classes, such as Physics, Vascular, Abdomen, OB/GYN, and Medical Terminology.
"Since joining our team this past fall, Laurie has demonstrated a continuous and relentless interest in improving the student experience, by enriching their opportunities to hone their critical thinking skills in the labs and providing an outstanding education to the students," WCUI Phoenix campus, Director of Education Maria Walters said.  "We feel very lucky to have her accept this position and look forward to collaborating in shaping the new future of WCUI education."
Laurie Bentson's, MHA, RDMS, RVT Experience
Laurie grew her ultrasound experience while serving patients for 20 years at Banner University Medical Center-Phoenix campus. During her tenure, she managed the ultrasound team performing high-risk OB; supporting organ transplant services, vascular and cardiac surgeons, NICU, a stroke center, and a robust interventional radiology team to include ultrasound-guided procedures. Laurie furthered her education by obtaining her Master's degree in Healthcare Administration and was promoted to Senior Manager, serving two additional major medical centers within Banner Health. In this role, she was responsible for staff development, quality outcomes, and operations for several different modalities to include Interventional Radiology, CT, MRI, Nuclear Medicine, Breast Imaging as well as Ultrasound.  
Laurie Bentson has extensive experience in the educational field as a vascular sonography lab instructor for Gateway Community College.  There she also taught weekend seminars to prepare the students to take their RVT registry.
Congratulations Laurie!
As WCUI Phoenix's newest Clinical Lab Director Laurie is eager to improve WCUI student's learning experiences by continuing to restructure lab environments to mirror clinical spaces and maximize learning opportunities. Congratulations Laurie Bentson! We are excited to see how you will continue to improve WCUI and make your impact on each of our students.
For details about Laurie Bentsons's experience and her new promotions as WCUI Phoenix Clinical Lab Director see the official WCUI press release here: Press Release Laurie Bentson Promoted to Phoenix Clinical Lab Director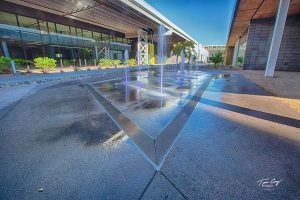 WCUI is excited to announce that in Summer 2020, our Phoenix campus will be moving to the new Park Central development! The new campus is being built to suit and will be developed as part of the new Park Central project in the heart of the Bioscience HealthCare District in Phoenix. The new campus is only 6.7 miles from the current WCUI Phoenix location and will provide its students and employees a fresh new look and accessible community.
New Location Address: 3110 North Central Avenue Suite L150 Phoenix, AZ 85012.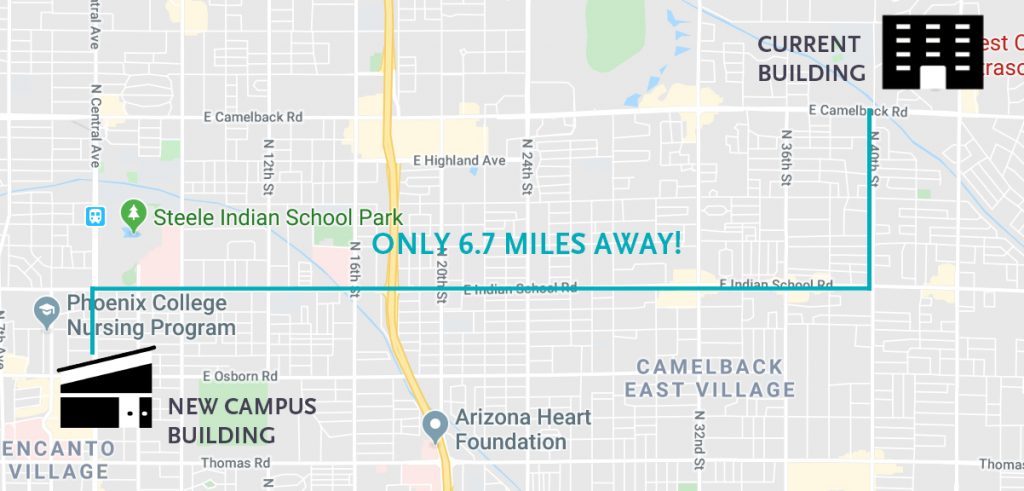 WCUI's new Phoenix campus will be contiguous on one floor, with high modern ceilings featuring an expanded ultrasound lab and brand-new nursing simulation and skills laboratory. A new student lounge and expansive outdoor space will provide a relaxing area for students to study, unwind between classes, and connect with their colleagues promoting a stronger community culture on campus. Nine current on-site dining areas will provide students, employees, and WCUI visitors a variety of restaurants to dine during their time on the grounds. Students, employees, and visitors will also have the option of parking in the onsite parking garage or utilizing the light rail that can be accessed at the front of the WCUI campus building.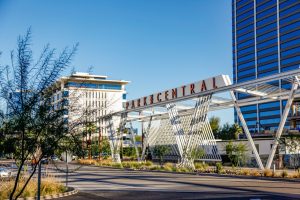 The location of the new campus in the Bioscience HealthCare District will immerse WCUI and its students in the developing healthcare community and major medical locations such as, Creighton University, who is building their new Health Science campus at Park Central and is scheduled to open in 2021, Dignity Health-St. Joseph's Hospital and Medical Center, Banner Health, Phoenix Children's Hospital, and more.
"Park Central is an ideal location for WCUI because of its accessible location and proximity to exceptional medical facilities," said Andrew High, Chief Operating Officer of WCUI. "Park Central will help WCUI create a great learning environment for our students in a central area of Phoenix with excellent walkable amenities. At Park Central, WCUI will be positioned to attract top talent in order to provide a constantly improving experience for our students. We were attracted to the project's energy, proximity to medical facilities and outdoor spaces and we look forward to being part of Park Central for many years to come."
WCUI strives to promote a culture of support through our education, student resources, and dedicated staff. We know this new location will allow us to continue this mission and create the best learning environment as you pursue your passion and career. We are thrilled for this new opportunity and everyone at WCUI is on deck to help potential, current, and past students adjust to this exciting new phase. Enrollment for all upcoming terms will continue without interruption and we will be here to answer any and all questions you may have. New applicants are welcome to meet with our Phoenix admissions team for further details about the new campus and our programs.
All classes and operations at the new location will begin this summer for the start of the WCUI Summer quarter beginning June 29, 2020.
For further questions, comments, or concerns about the new WCUI Phoenix campus, please contact Phoenix Campus Director, Sophia Perkovich at sophia.perkovich@wcui.edu
For further details about the Park Central development project in Phoenix, AZ please visit their website: www.parkcentralphoenix.com
News Articles about the new development and WCUI's move: https://azbigmedia.com/real-estate/big-deals/wcui-school-of-medical-imaging-and-nursing-moving-into-park-central/
In November 2019, the WCUI School of Medical Imaging and Nursing welcomed Jason Grabham, RDCS (PE, FE, AE), FASE as the Director of Externship at our Phoenix campus. Jason comes to WCUI with nearly 30 years of experience in the cardiovascular sonography field and a glowing list of accomplishments including, serving as Technical Director of the Kentucky Children's Hospital Pediatric & Congenital Heart Program, Clinical Reviewer for the Intersocietal Accreditation Commission, Manager of Integrated Non-Invasive Cardiology at the Phoenix Children's Hospital, and well-known public speaker at formal lectures and national conference presentations.
"With his years of experience working with and knowledge of the medical imaging providers in Arizona, Jason will be able to connect WCUI students to facilities that best fit each student's background and area of interest, while providing the highest level of service to the hospitals who affiliate with WCUI." – Chief Operating Officer, Andrew High
Meet Jason Grabham, RDCS (PE, FE, AE), FASE
Jason Grabham has nearly 30 years of expertise in the field of cardiac sonography including experience as a clinical reviewer for the Intersocietal Accreditation Commission, national publications, formal lectures, and national conference presentations. He has spent the last year working on joining the Joint Pediatric Heart Care Program with Cincinnati Children's Hospital and Kentucky Children's Hospital, managing outreach operations, and serving as Technical Director of their Pediatric & Congenital Heart Program.   
WCUI is a proud partner of Jason's former employer, Phoenix Children's Hospital in Phoenix. According to Pediatric Cardiologist Ericka McLaughlin, DO, "Jason is a highly motivated, mission-driven individual who exhibits exceptional leadership skills such as integrity, commitment, passion, and decisiveness. He is a confident, enthusiastic leader with excellent communication and analytical skills. Jason has the ability to break down complex problems and barriers while effectively engaging others in order to facilitate innovative ideas and solutions."
The Future of the WCUI Externship Department
As the WCUI Phoenix Externship Director, Jason will ensure students are assigned to six months of clinical work in the medical imaging field, after completing their required classroom and laboratory hours. Externship is an essential requirement of the medical imaging programs at WCUI, to provide students real-life experience in hospitals or clinics and test their knowledge and skills before graduation. Completion of externship hours along with classroom and lab hours in our bachelor's and associates degree programs will provide our students eligibility for their registry exams after graduation.
For details about Jason Grabham's experience and his new role as WCUI Phoenix Director of Externship see the official WCUI press release here: Press Release Jason Grabham Externship Director