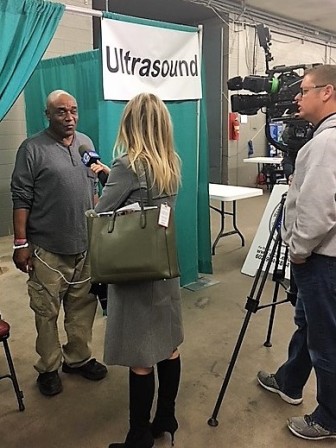 West Coast Ultrasound Institute Attends 17th Annual StandDown in Phoenix
   
WCUI Phoenix campus staff and students proudly participated in the Maricopa County Veteran "Stand Down" event for the 3rd year in a row this past January. The medical imaging and nursing school, recently awarded for its excellence in community service and quality of education by ACCSC and Forbes magazine, fielded a group of 26 amazing student volunteers, who performed an astonishing 1,035 pro bono screenings for veterans in need over two days. Combined with the help of 8 volunteer staff members, WCUI was able to contribute 288 hours of scanning hours. Veterans at the event received a blood pressure check, an ABI (ankle-brachial index), and at least one ultrasound exam – that is over 1900 medical procedures! On top of those, referrals were made to medical professionals on behalf of four veterans who were potentially in need of lifesaving care.
The school received special coverage from Channel 12 news, while the Governor's office staff spent time with students and staff in hopes of learning more about the procedures and the school that trained them – WCUI. The community is so grateful for the staff and students who made the event an overwhelming success. Special recognition is due for Susan Ciardullo, Regional Director of Career Services & Community Outreach, who has tirelessly developed school partnerships with veterans organizations like "Stand Down" and spearheaded numerous other successful community outreach projects since joining the WCUI family. Big thanks also go out to Dale for his tireless help and encouragement as well as support from the Phoenix team- George, Ryan, Steven, and Francisco were a tremendous presence there in support of the students and veterans.
Veterans "Stand Down" events are focused on helping veterans to regain their highest levels of independence, while also seeking to bring together the community and service providers in order to build relationships that can positively benefit veterans throughout the year. Ultimately, organizers of these events aim to increase awareness and gather consistent data as a manner of activating the on-going resources it will take to end veteran homelessness once and for all.
"StandDown" is a military term that refers to a brief period of time for a soldier to leave an active combat area, to rest and regain strength before returning to battle. The Maricopa County StandDown event seeks to offer a hand up to former members of the military in the Valley who now battle with homelessness, housing insecurity, and life on the streets.  The event's goals are to increase the community's awareness of the plight of the American veteran struggling to make ends meet. Over 70 service providers will be onsite to help veterans regain, and retain their independence. The event includes: Municipal and Superior Courts, a full-service Motor Vehicle Division office on-site, Social Security Administration office, multiple housing programs, VA medical, employment, and other wellness services including acupuncture and behavioral health specialists. This year, after years of hearing from veterans about the critical need for affordable dental care, AVSA is proud to partner with the Central Arizona Dental Society (CAZDS) Mission of Mercy in providing 25 full-service dental chairs.
According to the VA, access to dental care was consistently ranked by veterans experiencing homelessness as one of their top 3 unmet needs, along with long-term permanent housing and childcare. Dental issues, such as persistent pain and/or missing teeth can be tremendous barriers to seeking and obtaining employment. Studies have shown that many veterans report that after dental care they feel a significant improvement in perceived oral health, general health and overall self-esteem. Which is why we are eager to work in partnership with CAZDS Mission of Mercy to assist in meeting this growing need. 
The first Maricopa County StandDown was held in 2001 and has since grown to be the largest StandDown in the nation.  The first annual report released in 2004 showed 414 veterans received services and grew to serve 2,109 veterans in 2017, and event staff anticipates serving a similar number of veterans this year.