WCUI ALUMNI, CHANDLER DIXON, WINS 2019 ACCSC OUTSTANDING GRADUATE AWARD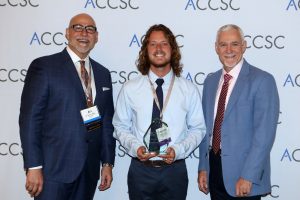 Earlier this year, WCUI's own alumni, Chandler Dixon, was nominated and awarded the 2019 ACCSC "Outstanding Graduate" Award. Every year ACCSC receives submissions from hundreds of accredited member schools for graduates working in the same field as the program from which they graduated and have made an outstanding contribution to their profession. As a 4.0 GPA graduate from the Cardiovascular Sonography program at Ontario who has made significant strides in the cardiovascular sonography field since graduation, Chandler Dixon hit all the marks and was selected as this year's Outstanding Graduate recipient.
WHAT IS THE ACCSC AND THE OUTSTANDING GRADUATE AWARD?
ACCSC is recognized by the United States Department of Education as the designated institutional accrediting body for over 650 post-secondary, trade and technical schools, including all three WCUI School of Medical Imaging and Nursing campuses.
Each year, ACCSC formally recognizes the success and significant achievements of ACCSC-accredited institutions, and pays tribute to several outstanding, dedicated individuals. In 2017, WCUI was awarded the School of Excellence award for demonstrating a high level of achievement among our students and a commitment to the accreditation process. That same year, WCUI's Phoenix campus was awarded the Excellence in Community Service Award for their outstanding contributions to their local community through service initiatives.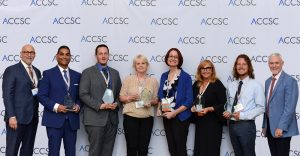 In 2019, WCUI Ontario graduate, Chandler Dixon was presented with the "Outstanding Graduate" award. The Outstanding Graduate Award is presented to an individual who graduated from an ACCSC-accredited institution, is making outstanding contributions to his/her profession, and exemplifies what is possible through hard work, determination, and perseverance. The Outstanding Graduate Award is designed to recognize an individual who not only has demonstrated outstanding scholastic achievement, but an extraordinary commitment to his/her occupational field or community.
MEET CHANDLER DIXON
Chandler Dixon is a 2015 graduate of the cardiovascular sonography program at the WCUI School of Medical Imaging and Nursing, Ontario Campus. Chandler has accomplished quite a bit since his graduation 4 years ago, including volunteering his time and knowledge to mission programs providing healthcare in foreign countries and pursuing his career at Rady Children's Hospital in San Diego, CA.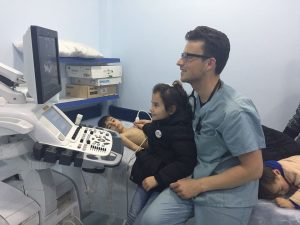 Throughout his years, Chandler has made a point to give back to other communities through the use of his knowledge and skills. He has completed several mission trips through organizations like For Hearts and Souls, the Hearts with Hope Foundation, and Samaritan's Purse where the focus was on pediatric ECHO patients. Chandler explained their goal was to screen as many children as possible and conduct as many surgeries, as needed, for these children who otherwise would not have access to this sort of healthcare in their communities. He's been to Peru, Mexico, Cuba, Kenya, and Iraq twice in pursuit of providing care to underdeveloped communities.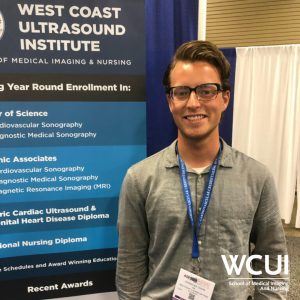 Along with his philanthropic efforts, Chandler had a podium presentation at the 2018 ASE Conference in Nashville, TN. He provided a case report over double aortic arch with bilateral aortic coarctation associated with complex atrio-ventricular canal defect and heterotaxy-asplenia syndrome. Chandler described his presentation at a conference in front of hundreds of experts in echocardiography as one of his greatest accomplishments since graduating from WCUI.
During his employment at Rady's Children's Hospital in San Diego, CA he has begun working on a 3D ECHO program for heart disease along with few journals on abnormal case studies that he hopes to have published in the near future. His experience proves that even after graduation your education never ends, especially in the medical field.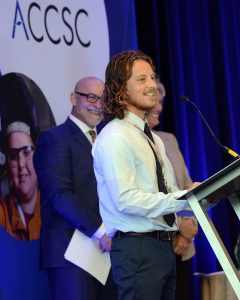 Chandler Dixon has had a lot of success not only as a student but as a cardiovascular sonographer. He has gone on to make a significant impact on the medical imaging field through his support of research and advancements in the cardiovascular sonography field. He has also continued to support WCUI by meeting with WCUI leaders to inspire and share his experience with WCUI affiliate members, other WCUI alumni, and current and future WCUI students.
HOW HAS WCUI SCHOOL OF MEDICAL IMAGING AND NURSING SHAPED HIS CAREER?
Chandler Dixon described his time at WCUI as the foundation of his knowledge in echocardiography. He explained that WCUI gave him the building blocks necessary to push, go above and beyond, and become really involved in his education.
For Chandler, WCUI provided the tools he needed to succeed. In his own words, "All the tools are there. Just pick up a fork and eat!"
When we asked Chandler Dixon what advice he had for current and future students at WCUI he said it best:
"If you don't care about people, don't be a cardiovascular sonographer. Money is not worth it if you don't care. If you want to make a difference in lives of patients and your community then do it! Study really hard. Not just for yourself, but the people you're going to help. Ask yourself 'When I'm old and sick would I want someone like me taking care of me?'"
At WCUI our goal is to do everything we can for our students and create an authentic investment in the next generation of healthcare professionals. It gives us so much pride to have one of our many hard-working students recognized! Congratulations to Chandler Dixon on his many accomplishments and his new role as ACCSC's 2019 "Outstanding Graduate"!
Learn more about our Cardiovascular Sonography program!
For more information on the organizations Chandler worked with during his mission trips and donate to their causes, visit their websites here:
For Hearts and Souls: http://forheartsandsouls.org/
Hearts with Hope Foundation: http://www.heartswithhope.org/home/
Samaritan's Purse: https://www.samaritanspurse.org/
For more information on ACCSC and their yearly awards visit: http://www.accsc.org/About-Us/ACCSC-Award-Winners.aspx
For more information on WCUI's Accreditations and Approvals visit: https://imaging.wcui.edu/admissions-financial-aid/admissions-overview/