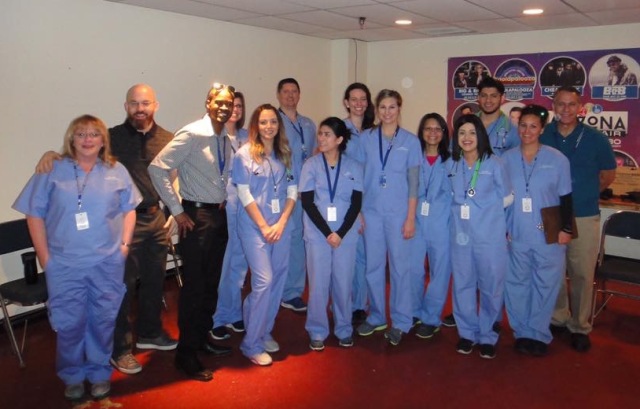 WCUI Gives Back to Veterans in Operation StandDown Maricopa County Event

On a Thursday and Friday in early February, West Coast Ultrasound Institute staff from the Phoenix campus accompanied thirty ultrasound students to take part in the Maricopa County Veterans StandDown Event held at the Veterans Memorial Coliseum. Veterans who attended the event were provided medical and dental services, legal support, employment advising and a number of other benefits to help them with their ongoing transition to civilian life. WCUI students screened a total of 467 patients and performed an astounding number of exams – over 1400 in two days! As a result of these exams, 2 patients were sent to the hospital and 4 were sent to urgent care. Students representing the school were praised for their level of professionalism and clinical proficiency.
In addition to all the students' scans, the operation was well supported by stellar leadership. The Phoenix faculty and staff onsite team of Maria, Michael, Dan, Andy, Dale, and Susan was extremely helpful, while the support staff of Mary Ann, Deanna, Alleyn, Ryan, and Steven helping provide lunches and running supplies was equally invaluable. It was an amazing team-based event in which all students and staff were proud to contribute to veterans and represent our school so well in the community.
Besides contributing to veterans, the event provided clinical and volunteer experience to WCUI students while also providing help for veterans that need and deserve it for their service to our country. The faculty and staff at all three campuses are proud and appreciative of everyone's efforts at the event and continue to look for more opportunities to give back to the community in the near future.