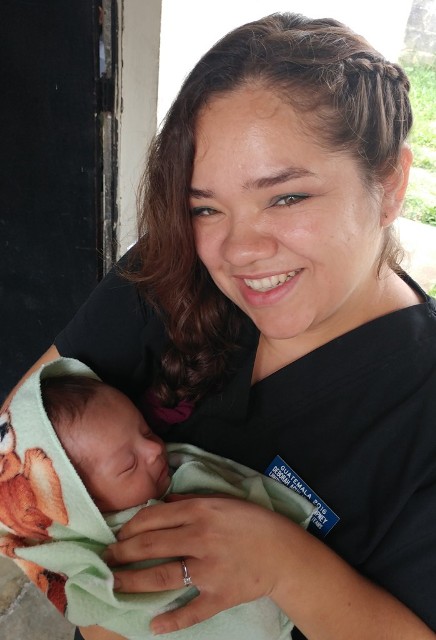 MISSION ACCOMPLISHED
 Deborah Lisbett Aguilar Champney is a recent Diagnostic Medical Sonography Graduate from our Beverly Hills Campus. She had a goal of being a member of a team of medical professionals on a "Medical Mission" to another country to help those less fortunate than herself and even before she graduated Debbie achieved that goal and much, much more… Below is Debbie's story.
Dreams don't just happen, we make them happen. I dreamt of becoming a Sonographer someday and being a part of a medical mission was only part of it. I wanted to be accepted as a Sonographer for a Lighthouse Medical Missions team, a non-profit that sends medical teams to other countries to provide free medical care. Well, for me that day came sooner than I had planned. The medical team would be traveling to Guatemala in late 2016. Even though I was still a student and did not graduate yet I gave it a shot. I knew my chances would be 50/50 that I would be chosen as their Sonographer. They could say no or they could light that spark of passion and choose me. The spark was lit! I became part of that important medical team and we left to Coban, Guatemala in October 2016. Four and a half days of non-stop work. Caring for over 2200 patients that were being treated by doctors, dentists and over 100 of them were for ultrasound alone. Finding pathology and seeing things I never thought I'd see was amazing. I was doing exactly what I was trained to do and I loved it. This mission let me gain both real-world experience and further ignited my passion for being a medical professional. I got to work with doctors from both the USA and Guatemala. Being able to provide them with key images so they could correctly diagnose and treat the patients made me so proud that I was helping to make a difference in their lives. This was a rewarding experience and I was blessed to be part of it. By the end of the trip, I was finally able to say mission accomplished!
Deborah Lisbett Aguilar Champney, DMS Graduate 2016
Debbie did such a great job she has been invited back for another trip to Coban this September 2017. She is now a regular member of the team. 
Congratulations Debbie. We are proud of your accomplishments and know you will go far. WCUI